Preimage™ FX-380
Fully Customized Progressive Lens
Onelens Preimage FX-380 is a high precision computerized freeform design that incorporate "All-Round 360 degree vision". The customized advanced optical lens not only eliminate blind spots but also optimize the wearer vision acuity experience.

PRODUCT INFORMATION
| | |
| --- | --- |
| PRODUCT POSITIONING | EXPERT |
| EXCELLENT VISION | CUSTOMIZED DESIGN |
| LENS DESIGN | CUSTOMIZED DESIGN |
| PROCESSING TECHNOLOGY | OVERALL OPTIMIZATION TECHNOLOGY |
| PROGRESSION LENGTH | 7,9,11 & 13MM |
| HIDDEN IMPRINT | FX |
| BRAND MATERIAL MARKING | REFRACTION INDEX |
| DISTANCE VISION | |
| INTERMEDIATE VISION | |
| NEAR VISION | |
NOTE : Progressive brand and laser engrave located outward (Progressive band+ADD)
DESIGN CONCEPT
ALL KINDS OF CUSTOMIZED DESIGNS AVAILABLE
Based on different lifestyles to incorporate various progressive design, Onelens FX-380 progressive lens is designed to customized individualized lifestyle.
NEAR VARIABLE INSET OPTIMIZATION
With different frames selection, the variable reading inset is automatically adjusted based on the LDT technology. LDT technology can provide compensation for high curve and slanting frame, so as to provide users the top clarity, top quality viewing experience, with no frame curve limitation.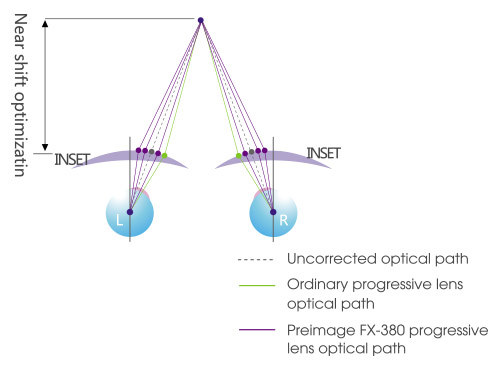 Variety progressive options to meet users diverse lifestyles

Frame design optimization
After entering the values of different frame parameters, computer prescription is then automatically calcuated to obtain the ideal lens thickness


Eyes environment simulation, lens design optimization
Onelens Preimage FX-380 progressive lens use point-to-point eye simulation calculation technology to provide an unique rear surface design with higher power accuracy, and is more comfortable to wear.